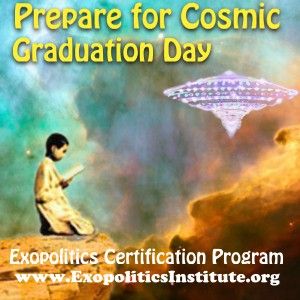 [May 10, 2014 – Kalapana, Hawaii] The Exopolitics Institute is pleased to announce that classes begin on May 26, 2014 for a number of educational programs designed for those interested in developing professional qualifications in exopolitics; and/or acquiring analytical tools, research methods and investigative techniques for evidence concerning extraterrestrial life. Our experienced faculty of educators and trainers collectively offer decades of experience in the teaching profession and in researching extraterrestrial life; and offer you the opportunity to apply exopolitics in a number of unique areas.
Classes offered for the Spring 2014 Semester are:
For 2014/2015 schedule visit: click here. Some comments from students completing earlier courses.
This course will not only expand your knowledge and awareness of the subject but also provide intellectual and emotional stimulation and challenges that can hone your perspectives and the ability to communicate them clearly and effectively. Karen Kael – Exo-102 – Summer 2013
We covered a broad range of topics about the motivations, activities and intentions of various ET groups and our 'elites' and humanity's best response to them in the form of citizen diplomacy; they not only made us realize how much there is to take into consideration to obtain the whole picture and act appropriately, but also had I think a huge psychological/emotional impact on each student. – Nevenka Likar, Slovenia – Exo-102 – Summer 2012
As Ben Kenobi said : " That's good . You've taken your first step into a much larger world " – Stanley Ho, Hong Kong – Exo-102 – Summer 2012
The course as a whole was very interesting. The quantum mechanics part was very useful, as this field has been "Greek" to me so far. The same must be said about RV. I also enjoy the exo 106 YouTube channel – very good movie clips! The course was produced and composed in a way that makes the student see comparative events (connecting the dots), and such methodology served as quite an eye opener to me. – Kai Olsen, Exo-106, Spring, 2011
For more student comments on past courses click here Whether you plan to be or are a journalist, a diplomat, educator, artist, scientist, historian, researcher, lawyer, policy maker, or health, government, religious, or business professional, you will find a suitable way of incorporating evidence concerning extraterrestrial life into your chosen profession. The certification program offers a three-tiered system of courses and seminars that each culminate in an Exopolitics certificate or diploma.
Exopolitics Certificate
– Entry level certification provides the core conceptual understanding so you have basic competency in writing about, researching or investigating exopolitical issues.
Exopolitics Diploma
– Higher level certification designed for those intending to teach or train others in exopolitics.
These certification programs are competitively priced and provide you the opportunity to learn and practice exopolitics in a way that is suited to your interests and career. With a minimal investment of time and energy, you could soon be on the way to acquiring the skills and training to set you off to a path that will establish you as an exopolitical pioneer in your respective fields.
Explore our certification program then register for the certificate program that will open your path to exopolitical knowledge and training.
Website: click here. Email: courses@exopoliticsinstitute.org Phone: +1 202 470 0140
The Exopolitics Institute is a 501(c)(3) non-profit educational organization based in Kalapana, Hawaii. Website: http://www.exopoliticsinstitute.org/