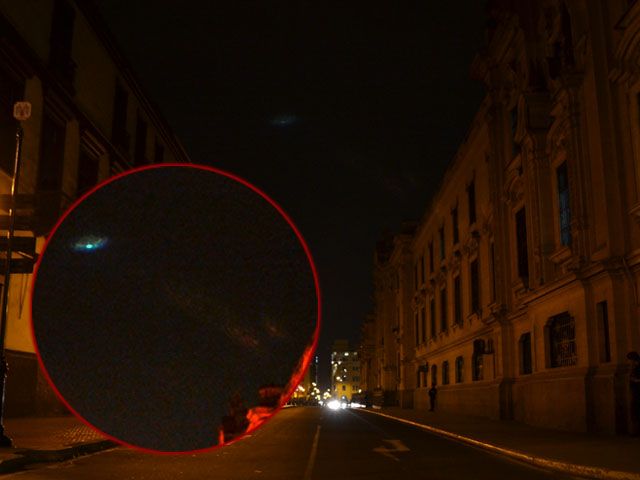 There's been more UFO activity reported in Lima, Peru recently. There are some expectations here and there because the beginings of Mision Rahma contacts was 40 years ago. The contacts multiplied and several contactees appeared besides the first contactees, Sixto and Charlie Paz. Each brings a new complementary perspective and information. Out of 7 events witnessed by reporters (with varying degrees of success due to excessive excitement or lack of respect and preparation on the part of curiosity seekers and attendees), according to Sixto Paz, perhaps only 10% of the reporters were courageous enough to speak up and to hold on to their witnessing of craft. One of them was J.J. Benitez who wrote his experience in "OVNI: S.O.S. a la Humanidad," lost his job and started an incredible career researching and writing about mysteries.
Thankfully, even in today's highly commercial and modernizing Peru, there's also somewhat more awareness and respectability for the UFO issue and a larger segment of the population is being informed by UFO programs like those from History Channel and so forth. Besides, some people are aware that the Air Force has recently opened an Anomalous Aerial Objects Research Office.
Recently, some
photos were taken in downtown Lima
by a RPP radio network reporter and have been circulating. Whether lens flares or not, it raises the issue in people's minds.
Besides those photos taken by an RPP Radio reporter (the largest radio network in Perú),  recently several callers reported that on Dec 14 UFOs were also dramatically seen at around 8PM on a (crowded) northern part of Lima, Peru between the Panamerican Higway north and a street called Habich. The event its said to have stopped traffic for a while because many people stopped to watch the display. Some  callers even mentioned a large, multi colored (rugby football-shaped) object  which was suddenly seemed to be
 hased or circled by a smaller star-like one until it had to leave. The reports were received on Radio Capital program "Viaje a Otra Dimension" conducted by UFO and paranormal investigator Anthony Choy.  
Also, colorful lights constantly appearing, dissappearing, moving and changing positions with respect to each other lights in the District of Cieneguilla, Lima, Peru. The sincerity of the peoples' dialogue during filming is quite telling that it doesn't seem to be pre-planned or faked. http://www.youtube.com/watch?v=s4HVDCotZGI (part one) Two sets of videos were posted on You Tube Dated 15 December, 2013 and 18 December, 2013 http://www.youtube.com/watch?v=kwcrSOHiTVk
Cieneguilla has been a place where UFOs have been seen before.
On Dec 9 Anonymous Peru informed that an object had crashed near Cieneguilla Peru. That created some stir but that report has not been confirmed.
Now we have this cell ph video taken in the District of San Miguel in Lima, Peru dated Dec 23, 2014. It shows a helicopter and what SEEMS to be a metallic disc hovering nearby to the left of the chopper. The film is from Gladys Cordoba. The link is http://www.youtube.com/watch?v=jffR4d-B0QE   During a very brief fraction within the first second of the video there SEEMS to be a metallic disc hovering to the left of the helicopter. Then, it disappears from view because the camera moves to the right. The sunlight seems to shine on the left side of the object which coincides with how it shines on objects casting shadows (toward the right) on the ground.A blow up photogram of that brief moment is included.
It's too early to tell but, if this is a lasting trend that will continue beyond ocasional sightings but, perhaps, some Latin American contactees connected to a spiritual perspective will eventually show that some UFOs are indeed ET and that a better approach toward friendlier, respectful  contacts with extraterrestrial beings is not only possible and necessary, but can be objective and politically viable. They will probably show along with the effort of so many other researchers that a TABOO on this matter is BEHIND THE TIMES and that without panic, adoration or condemnation, we can engage in more intelligent exchanges with extraterrestrial beings.
A probable connection with a distant – but always latent – past in which knowledge about ancient beings coming from the stars and-or living underground as survivors of old, wise civilizations exists. Thus, in old traditions there are memories of the "Paco Pacuris" (illumined beings that live in special undergound sites) and of the "Ñaupas" (the ancestors who dressed in white came from the the sea). When on November, 2010, my friend, colleague, reporter and researcher Marco Barraza was investigating at the famous "Aramu Muru" Portal or the "Hayumarca Door" in Juli, Puno, Peru two seemingly anomalous objects moved behind him while he was mentioning specific words as seen here.   From minute 5.30 on when he especifically said "There are places in the planet surrounded by myths, magic and mysteries " a mist-like thing appeared moving behind him from left to right. Next, when he says "there are places where one can even perhaps feel the presence of the so-called extraterrestrial deities" a UFO appeared, also moving from left to right behind and above him.  The link is at http://vimeo.com/84738979
I think that modern society needs to recuperate the highest memories of a wiser past in which ETs were not a threat as seen today. Not everyone 'out there' or inside here( (inside the Earth's crust) is a threat and we must evolve beyong our extreme warrior-like projections on them. After considering the experiences of some contactee friends with eyewitnesses accompanying them, and after thinking of information contasined in ancient lore and current "wisdom keepers" I am certain that there are benevolent masters of wisdom and extraterrestrials waiting for us to become aware of who we are and to responsibly participate in a cosmic community. While in our fantastic cultural milieu "benevolence" might sound like gullibility and a non-realistic attitude I'd say that the overall emphasis on negativity and aggression is exagerated.
Sixto Paz, one of the main contactees objectively verified by witnesses (and succesfully preparing other people to experience their own contacts), estimates that, out of about 60 extraterrestrial "races" interacting with Earth and humanity, only 5 don't want the original cosmic plan for humanity to suceed. First, we need to find who we are and is the highest thing expected from us to "suceed." We also need to think less dichotomically, more intelligently and to choose our direction wisely.
The time to focus more on our friends and less on our probable foes (perhaps in some cases beings that might need our assistance without allowing them to exploit us) is at hand. Let's contact them with integrity and no fear!