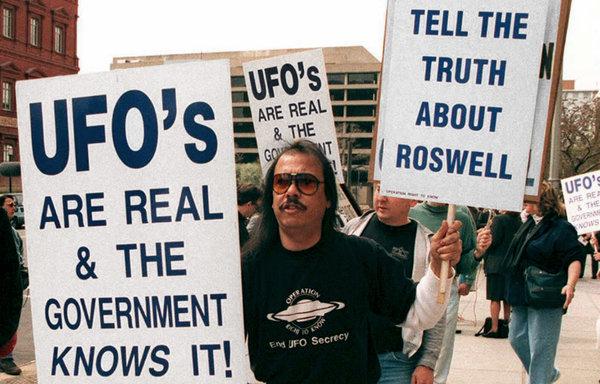 White House Could Stage 'Public Hearings Into Aliens' Exposing Truth Behind UFO Project
by Paul Harper                September 15, 2018                 (dailystar.co.uk)
• The U.S. Armed Services Committee has been investigating the public funding of the Pentagon UFO project, Advanced Aerospace Threat Identification Program (AATIP), which investigated flying saucer reports from 2008 to 2012, according to Nick Pope who probed the UFO phenomenon for the UK's Ministry of Defence in the 1990's. Officials working alongside scientists from Bigelow Aerospace have examined videos of UFOs and reportedly studied debris from crashed objects. Video of one AATIP case study showed U.S. Navy pilots in the Pacific in 2004 watching an object appear suddenly at 80,000ft before hurtling towards the sea and stopping at 20,000ft.

• Luis Elizondo, who ran the Pentagon project, said researchers concluded some of the UFOs are using time-travel jumps to achieve such speeds and dramatic movements.

• Pope believes the investigation by the U.S. armed service committee could lead to a major public hearing which would be a "political bombshell". "Some committee members and staffers may have been angered that they were kept in the dark about AATIP, not least because the US government had previously denied there was any official interest in UFOs," said Pope.

• "(Congressional) hearings should probably go wider than just looking at AATIP, and should look at the UFO phenomenon as a whole," said Pope. "It would be a great opportunity to get to the bottom of the UFO mystery."
The influential US Armed Services Committee has been investigating the money spent on a top-secret X-Files type Pentagon project.
Seen as one of the most powerful committees in Washington, the group oversees military spending and legislation.
Top political members asked how much taxpayers' cash was spent on the Advanced Aerospace Threat Identification Program (AATIP) which investigated flying saucer reports for four years from 2008.
Officials working alongside scientists from Bigelow Aerospace have examined videos of UFOs and reportedly studied debris from crashed objects.
VIdeo of one AATIP case study showed US pilots in the Pacific in 2004 watching an object appear suddenly at 80,000ft before hurtling towards the sea and stopping at 20,000ft.
Luis Elizondo, who ran the Pentagon project, said researchers concluded some of the UFOs are using time-travel jumps to achieve such speeds and dramatic movements.
Nick Pope, who probed the UFO phenomenon for the Ministry of Defence, believes the investigation by the US armed service committee could lead to a major public hearing which would be a "political bombshell".
Mr Pope said: "I think the powerful House Armed Services Committee was as fascinated and mystified by the revelations about the Pentagon's UFO project as everyone else.
"Some committee members and staffers may have been angered that they were kept in the dark about AATIP, not least because the US government had previously denied there was any official interest in UFOs.
FAIR USE NOTICE: This page contains copyrighted material the use of which has not been specifically authorized by the copyright owner. ExoNews.org distributes this material for the purpose of news reporting, educational research, comment and criticism, constituting Fair Use under 17 U.S.C § 107. Please contact the Editor at ExoNews with any copyright issue.
Advanced Aerospace Threat Identification Program, Luis Elizondo, Nick Pope, The U.S. Armed Services Committee
---
ExoNews Editor
Duke Brickhouse is a former trial lawyer and entertainment attorney who has refocused his life's work to exposing the truth of our subjugated planet and to help raise humanity's collective consciousness at this crucial moment in our planet's history, in order to break out of the dark and negative false reality that is preventing the natural development of our species, to put our planet on a path of love, light and harmony in preparation for our species' ascension to a fourth density, and to ultimately take our rightful place in the galactic community.
---