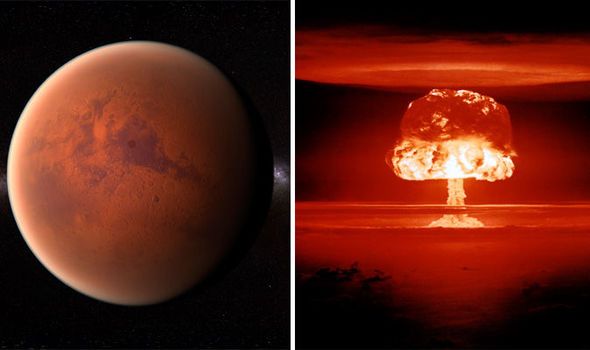 by Sean Martin           February 5, 2018              (express.co.uk)
• Astrophysicist John Brandenburg brought forth evidence of a thermonuclear blast on Mars in his 2015 book, Death on Mars, which destroyed the Mars civilization there in the ancient past and rendered Mars a barren planet.

• This discovery supported widespread theories of an ancient war tens of thousands of years ago between the inhabitants of Mars and a much larger planet named Maldek. In the conflagration, Maldek was blown to bits and became the asteroid belt.

• Some believe that the inhabitants of Mars were human-like, while the inhabitants of Maldek were humanoid reptilians. Accounts found in the Bible might support this theory. Revelation 12:7 reads: "And there was war in heaven: Michael and his angels (Mars humans) fought against the dragon (Maldek reptilians); and the dragon and his angels fought." Revelation 12:8-9, continues: "But he (Michael) was not strong enough, and they lost their place in heaven."

• [Editor's Note] See what George Kavassilas says about the destruction of Mars in this ExoNews video of February 12, 2018 beginning at 33:50
Huge devastation in Heaven was included in the Old Testament but now many believe there could be greater meaning.
Revelation 12:7 reads: "And there was war in heaven: Michael and his angels fought against the dragon; and the dragon and his angels fought."
This leads on to Revelation 12:8-9, which says: "But he was not strong enough, and they lost their place in heaven."
Christians and conspiracy theorists now believe that this was a "literal war" in the skies which took place on Mars and wiped out a civilisation on the Red Planet.
Dr John Brandenburg, a plasma physicist working as a consultant at Morningstar Applied Physics LLC, says in his book, Death on Mars, that nuclear isotopes found on the Red Planet "resemble those from hydrogen bombs on Earth" and a "Martian civilisation apparently perished due to a planet-wide catastrophe of unknown origin".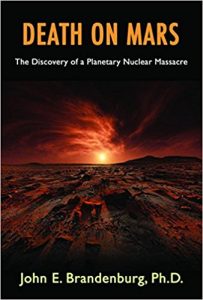 According to conspiracy website Planet X News, this supposed war happened 75,000 years ago and was an interplanetary battle that happened between Mars and Maldek – a theorised planet once existing between Mars and Jupiter.
The war was between humanoids, which lived on Mars and reptilian creatures which occupied Maldek, the website claims.
While Maldek was completely destroyed, Mars was left uninhabitable and forced the residents of the Red Planet to move to Earth.
FAIR USE NOTICE: This page contains copyrighted material the use of which has not been specifically authorized by the copyright owner. ExoNews.org distributes this material for the purpose of news reporting, educational research, comment and criticism, constituting Fair Use under 17 U.S.C § 107. Please contact the Editor at ExoNews with any copyright issue.