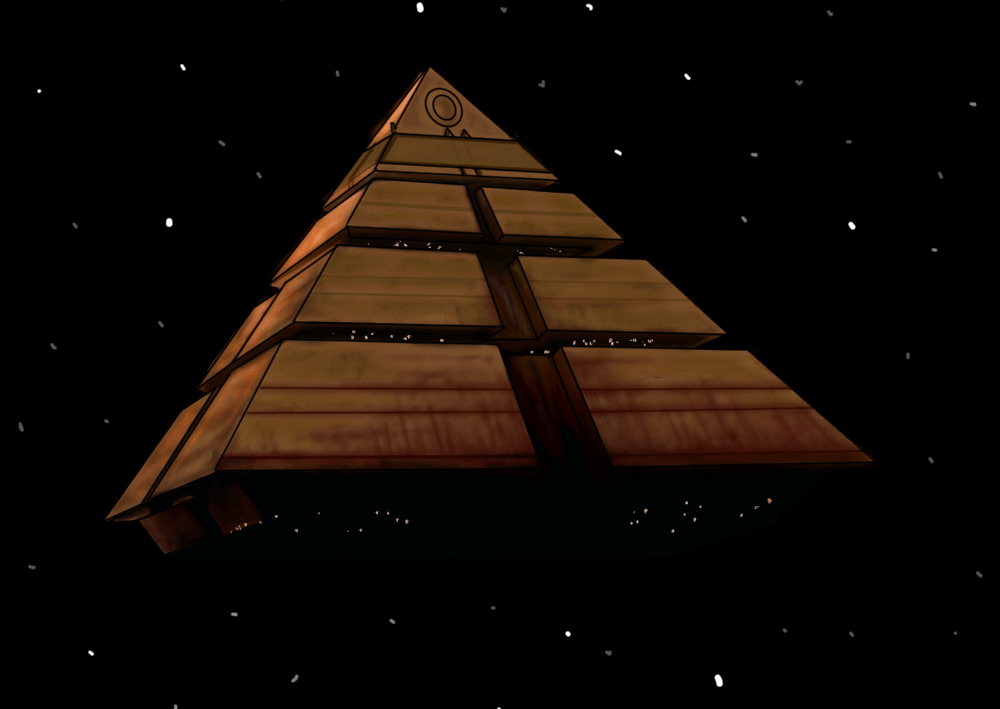 MUFON Investigating the Case of Golden Pyramidal UFO Appeared in New York Skies in May
by Nirmal Narayanan              May 26, 2018                  (ibtimes.co.in)
• Mutual UFO Network (MUFON) is investigating the May 2018 case of a golden pyramidal UFO which appeared in the early morning skies over Melville, New York. The video of the incident was later shared by conspiracy theory YouTube channel 'UFOmania'. (see video below of this compelling sighting)
• Opinions of those commenting on the 'UFOmania' YouTube video identifying the pyramid UFO ranged from a weather balloon to a golden Anunnaki spacecraft.
Mutual UFO Network (MUFON) is apparently investigating the case of a golden pyramidal UFO which appeared in New York skies in May 2018. The video of the incident was later shared by conspiracy theory YouTube channel 'UFOmania', and it is now trending on online.
According to the narrator of the video, the sighting reportedly happened in Melville, New York, at around 05.00 AM. The object spotted in the video looks very similar to those ancient Egyptian pyramids. We can also see bright light emanating from the pyramid UFO.
As the video went viral, alien buffs all across the world strongly argued that sightings like these are a concrete evidence of extraterrestrial existence. They even claimed that the US government is well aware of alien existence, but they are intentionally covering it up for unknown reasons.
As the video started storming in the online spaces, viewers were soon to speculate what happened in the skies of New York.
Many people who watched the video argued that these golden ships are basically interstellar flying spacecraft used by Anunnaki aliens.
2:27 minute 'UFOmania' video of pyramid UFO over Melville, New York
FAIR USE NOTICE: This page contains copyrighted material the use of which has not been specifically authorized by the copyright owner. ExoNews.org distributes this material for the purpose of news reporting, educational research, comment and criticism, constituting Fair Use under 17 U.S.C § 107. Please contact the Editor at ExoNews with any copyright issue.
---
ExoNews Editor
Duke Brickhouse is a former trial lawyer and entertainment attorney who has refocused his life's work to exposing the truth of our subjugated planet and to help raise humanity's collective consciousness at this crucial moment in our planet's history, in order to break out of the dark and negative false reality that is preventing the natural development of our species, to put our planet on a path of love, light and harmony in preparation for our species' ascension to a fourth density, and to ultimately take our rightful place in the galactic community.
---