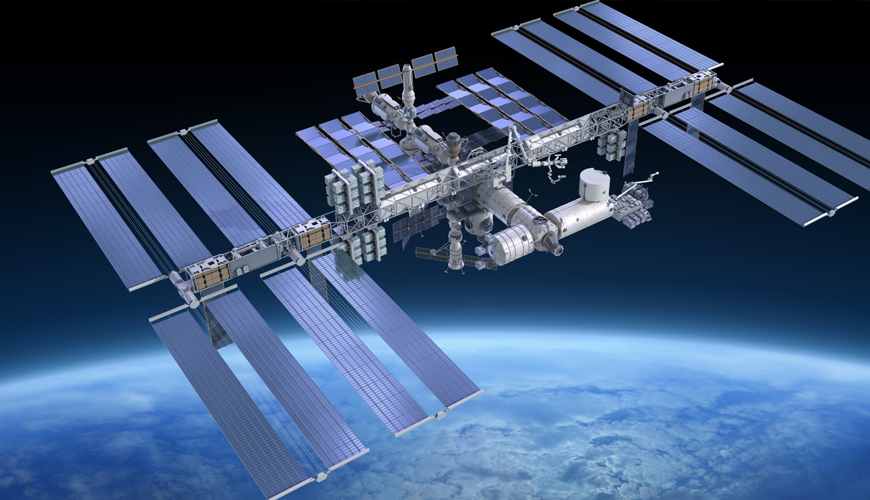 by Joe Pinkstone           April 3, 2018            (dailymail.co.uk)
• A conspiracy theorist known only as 'Graham' claims that video from a NASA live-feed from the International Space Station on March 31st shows a UFO. He posted the video on his YouTube channel "Conspiracy Depot". (see 2:14 minute video below)  He claims to have such ISS live-feed video evidence of seven UFO's lingering above the Earth.
• Graham says that sightings all over the world are increasing at a dramatic rate. "We are being watched and observed like a large planet sized scale lab experiment, I am of the opinion that the other races visiting our planet are not hostile." "After all, with the technology they must employ to travel vast distances etc, I'm sure they could wipe us out in the blink of an eye. …The fact we are still breathing on this beautiful planet means either they are here to help or observe."
• Graham believes that a timescale has been agreed upon by world leaders and the ET's that ET beings will openly reveal themselves within 15 years. "Eventually, they will make themselves known… Imagine how this will impact the Earth – new technology, medicines and way of life, our whole civilization could change to reflect one of unity and peace."
• A NASA spokesperson offered a different explanation for the anomolies: "Reflections from station windows, the spacecraft structure itself or lights from Earth commonly appear as artifacts in photos and videos from the orbiting laboratory."
A conspiracy theorist has claimed that the NASA live stream from the International Space Station has produced evidence of seven UFOs lingering above Earth.
Not only is this thought to be proof of ET's existence, the theorist believes the aliens are probably friendly.
With so many 'sightings' from the ISS, the beings could come face-to-face with humans in 15 years, claims the unknown conspiracy theorist known only as 'Graham'.
The UFO-tracking conspiracy theorist told the Daily Star that aliens are here and making their way to us.
He said: 'Sightings all over the world are increasing at a dramatic rate.
'We are being watched and observed like a large planet sized scale lab experiment, I am of the opinion that the other races visiting our planet are not hostile.
'After all, with the technology they must employ to travel vast distances etc, I'm sure they could wipe us out in the blink of an eye.
'And the fact we are still breathing on this beautiful planet means either they are here to help or observe.'
The evidence presented by Graham was obtained during a live feed from the ISS on March 31.
He then uploaded the edited footage to his YouTube channel Conspiracy Depot.
It was revealed that the UFOs were observed between 11:20 pm BST and 11:50 pm BST.
Graham revealed: 'Eventually, they will make themselves known.
'There is a theory that a timescale has been firmly set and agreed by world leaders and the ET's and I think the time for disclosure will be within the next 15 years.
'Imagine how this will impact the Earth, new technology, medicines and way of life, our whole civilisation could change to reflect one of unity and peace.
FAIR USE NOTICE: This page contains copyrighted material the use of which has not been specifically authorized by the copyright owner. ExoNews.org distributes this material for the purpose of news reporting, educational research, comment and criticism, constituting Fair Use under 17 U.S.C § 107. Please contact the Editor at ExoNews with any copyright issue.